A hot potato. Traditional cuisine
The potato is a common vegetable in the Podlasie region. There are lots of potato recipes and many Polish families can't imagine having lunch or dinner without that vegetable.
Potatoes were first cultivated approximately 7,000 years ago in the Peruvian Andes and the Spaniards brought them to Europe in the 16th century. Soon they were introduced in Italy, northern Europe and the Virginia colonies of North America.  Thanks to the Polish King Jan III Sobieski we have potatoes in Poland because it was him who first planted them in the 1680s.
Nowadays there are special festivals and competitions dedicated to the lovers and growers of the POTATO. For example, the celebration of Potato Day in Mońki (Podlaskie voivodeship) called the Potato Day Festival started in 1975. People can see the traditional and eco-friendly products there and take part in a popular competition which is eating babka ziemiaczana (potato babka/potato pie). Another important event is the World Championships organized in Supraśl every year (May/June) for locals,  tourists and foodies who enjoy baking babka and kiszka ziemiaczana.
What's interesting is that during communist times potatoes served with pork cutlet were a typical Polish dinner and the reason for some family quarrels among marriages. After work a tired husband expected to come back home and have dinner consisting of boiled potatoes, salad (usually sauerkraut) and pork chop (pork cutlet/kotlet schabowy). If the husbands got something else, they were disappointed and got angry easily.
Even my father was cross with my mum when he didn't get the "real dinner". My mother was wondering why he was unhappy until she finally figured out that to my father no dinner is good without potatoes. As I know, some Polish women think the same way 😉 Of course, it's all changed because nowadays Poles travel abroad more often, try out different things and they're more open to new taste experiences  and delicacies.
So, if you like potatoes, Poland is a perfect place for you to come!
Here are some popular POTATO dishes :
BABKA ZIEMIACZANA  (Potato babka/potato pie) – made from grated potatoes, smoked or fried bacon, eggs, flour, onions, often served with sour cream, extremely popular in the northeastern Poland.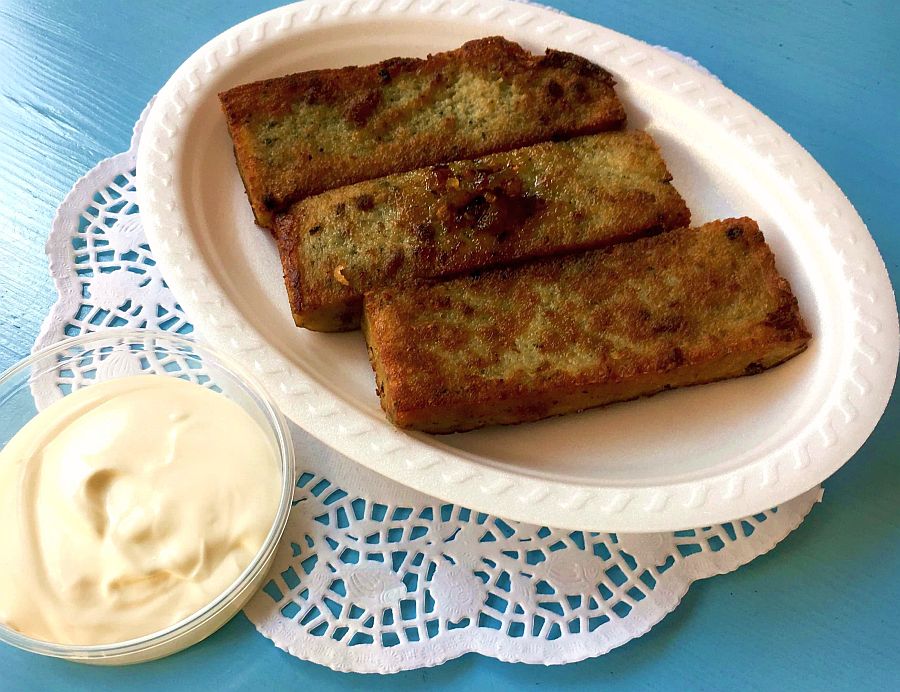 KISZKA ZIEMIACZANA a kind of roasted sausage (pork casing) stuffed with potatoes, smoked or fried bacon, eggs, flour, onions, also well-known in the Podlasie region.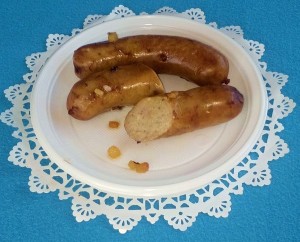 PLACKI ZIEMIACZANE (Potato pancakes) made from an onion, egg, flour, salt and usually served with sour cream.
RUSKIE PIEROGI (potato-cheese pierogis/dumplings) filled with white cheese, stir-fried onion and grated cooked potatoes.
KARTACZE (similar to Lithuanian Cepeliny, especially popular in the northeastern part of Poland) big, long potato dumplings stuffed with meat and marjoram.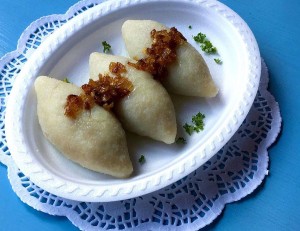 PYZY (a kind of potato dumplings) served by themselves or stuffed with minced meat or cottage cheese.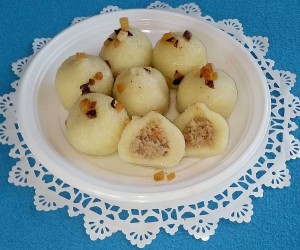 ZIEMINIAKI GOTOWANE  boiled potatoes with parsley or dill.
KOPYTKA hoof-shaped potato dumplings, made of boiled mashed potatoes, eggs and flour; compared to the Italian gnocchi.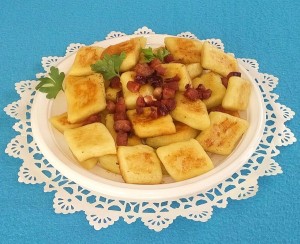 SAŁATKA WARZYWNA (a vegetable salad) with cooked root vegetables, potato, carrot, parsley root, celery root, combined with cucumbers in brine and hard-boiled eggs in mayonnaise and mustard sauce.
Bon appetit! Smacznego!
Author: Justyna Wasyluk
Photos (pierogi, babka, kartacze, placki): Damian Artemiuk (Babushka Bistro in Hajnówka).
See also: 7 reasons why to choose Podlasie.
Zapisz
Zapisz
Zapisz
Zapisz
Zapisz