Eastern Poland – a magic part of Europe
There is a place where every tourist is welcomed by hospitable inhabitants.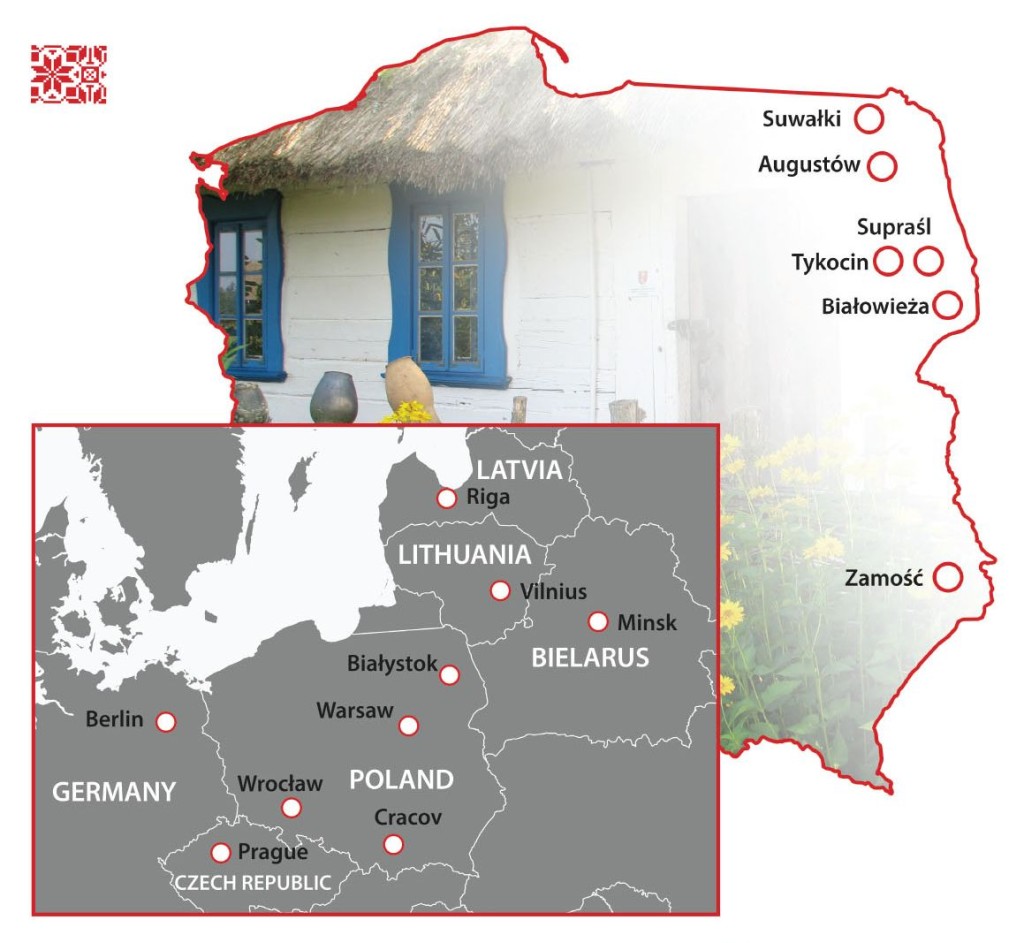 Culture
Eastern part of Poland is a place where West and East merge. There is a region mentally and culturally shaped by different nationalities and religions: Poles, Belarussians, Jews, Lithuanians, Ukrainians, Tatars and Russians. This cultural diversity was one of the reasons that Ludwik Zamenhof created an international language – Esperanto. Hi did it in Bialystok, the capital of Podlasie region.
Evidence of that multiculturalism are historic monuments and contemporary temples: Catholic and Orthodox churches, mosques and synagogues.
Tatar Trail: Supraśl – Krynki – Kruszyniany
The traces different cultures can also be found in the local cuisine, costumes and language. From this point of view this is the most interesting region in Poland, and maybe even in all Europe. Here we have something that might be called a living tradition. A unique and very interesting.
Nature
A marvel of nature is the Puszcza Bialowieska – the last natural lowland forest on the continent, honoured with entries on both the List of Biosphere Reserves and the UNESCO list.
King of the Bialowieza Forest is bison – the largest European mammal. Bisons you can also meet in Knyszynska Forest. There are places where you can see dozens of bison at the same time.
Poland is famous for its bogs and marshes, including the Biebrza Valley with the largest complex of low-lying peat bogs and the marshy valley of the Narew, Europe's only anastomotic river, which seen from above resembles a loosely plaited braid. There is only one other river like this in the world: the Okawango river in Africa.
The Biebrza Marshes provide a haven for birds which is renowned worldwide. It is home to 271 species, including the endangered aquatic warbler and the ruff, the emblem of the Biebrza National Park.
Forests, nature reserves and national parks occupy a large part of the eastern Poland region. Thanks to this there are many endangered species of animals such as wolves and lynxes.
The Particle of Podlasie. Trailer:
Active tourism
Kayaking on the Czarna Hancza river as well as rafting on the Biebrza and Narew rivers are a source of unforgettable memories from the trip. Lovers of horse riding will find trails designed especially for them. The longest horse riding trails in Poland are found in the Augustowska and Knyszynska forests (Podlaskie region). You can try also tourist balloon flights.
It is a very attractive place for cycling. Trails lead through unique natural regions. The newest project is the Green Velo – with the length of about 2.000 kilometres is the longest cycling route in Poland. It runs through five voivodeships in the eastern part of the country.
The cross border region
Geographical location makes eastern part of Poland good place for arranging trips to Lithuania, Latvia, Estonia, Belarus and Russia.
This creates a lot of opportunities and increases the attractiveness of the region. We organize many join tours, especially Poland – Lithuania and Poland – Belarus.
The best of Eastern Poland: